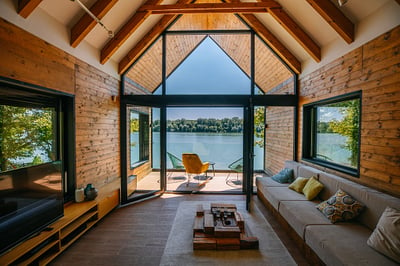 How to Break Into the Luxury Real Estate Market
Tuesday, Oct 26th 1:00pm - 2:30pm EST
Your life is about to get a lot more luxurious ...
It's no secret that the real estate market is soaring, especially in the luxury home market. Homes are selling in record time and at record-high prices. What does this mean? Record high commissions for real estate professionals resulting in increased earning potential.
Want to know how you can get in on the action?
In this free webinar, featuring our sister school The Institute of Luxury Home Marketing, our panel of experts will outline the steps you need to take to become a luxury real estate agent or broker.
Fill out the form below to reserve your seat for this exclusive webinar featuring top real estate producers in the luxury home market.
Meet the Panel
John Wenner
John's 25-year real estate career has presented him with opportunities to experience numerous markets, gaining priceless wisdom and education instrumental in serving a variety of buyers and sellers. Seeing markets soar and crash encouraged and inspired his passion for this business, thus, developing his skill set as a professional REALTOR® for selling, managing, teaching, and mentoring. John is one of only two holders of the DREI (Distinguished Real Estate Instructor) in Arizona, a member of the "Program on Negotiation" at Harvard Law School, and has negotiated a project which landed his Signature on the planet Mars on July 4th, 1997.
Tami Simms
Tami is a real estate marketing expert and accomplished trainer. Her background in advertising and as a concierge at a luxury resort provides her with real insights on reaching and serving the luxury consumer. Committed to community involvement, Tami has more than twenty years of non-profit board experience and ensures that volunteerism and good corporate citizenship are integral parts of her personal and professional life. She serves on numerous civic, municipal, and non-profit boards and committees in her local community and statewide.
Dusty Baker
Dusty was recently named among the top 250 agents nationwide by REAL Trend's "The Thousand," as advertised in The Wall Street Journal. With consistent sales in Montecito, Hope Ranch, Upper East, Riviera, Mesa, and more, Dusty Baker Group is backed by an impeccable track record of success in the area's most desirable neighborhoods, and in 2020 the team successfully closed more than $110,000,000 in real estate sales. Dusty has been featured regularly as a speaker at various industry-related events, and the group and their listings are frequently highlighted in publications such as The New York Times, The Wall Street Journal, The Los Angeles Times, CA Home & Design, Haute Living, Inman News, and The Close.
Bob Lucido
Robert Lucido began his real estate career in 1977 at the age of 18 and was one of the youngest people in Maryland to receive his real estate license. Bob has represented and worked with some of the area's most successful Builders and Developers, developing winning sales and marketing strategies. In April of 1991, Bob created Builder's 1st Choice and in seven short years grew the company to include 300 full-time employees and annual new home sales in excess of 275 million dollars, including a banner year of 3,000 sales in 2006, where sales reached almost $1 billion dollars. Bob has been involved in the sale of over 30,000 homes and 4,000 lots; more than any other known agent in this region.